Interview by Occhi Magazine
Interview with Oscar Cardenas Outstanding Award Winner for the Feature Film "A Dark Foe"
We had the wonderful opportunity to interview Oscar Cardenas! Check out the interview below.
Hi, Oscar! Thank you for granting the interview. Congrats on your film A Dark Foe. What should the audience expect to see?
Thank you so much for this interview! Our movie is a two hour "on the edge of your seat" psychological thriller full of heart racing scenes, with a very original story, never seen before on the screen, full of great characters played by a magnificent cast. It will haunt people minds for several days after watching it. That I promise.
Tell us about your character Tony Cruz. Who is he? What is his personality like?
Tony Cruz is a man who's been carrying a very heavy sense of guilt since childhood. He is a skilled and resolute man of arms but at the same time a sensitive person, not the typical FBI agent that movies are used to present. He suffers from a phobia that cripples him and it will be his main obstacle throughout the movie. He's also a resolute person.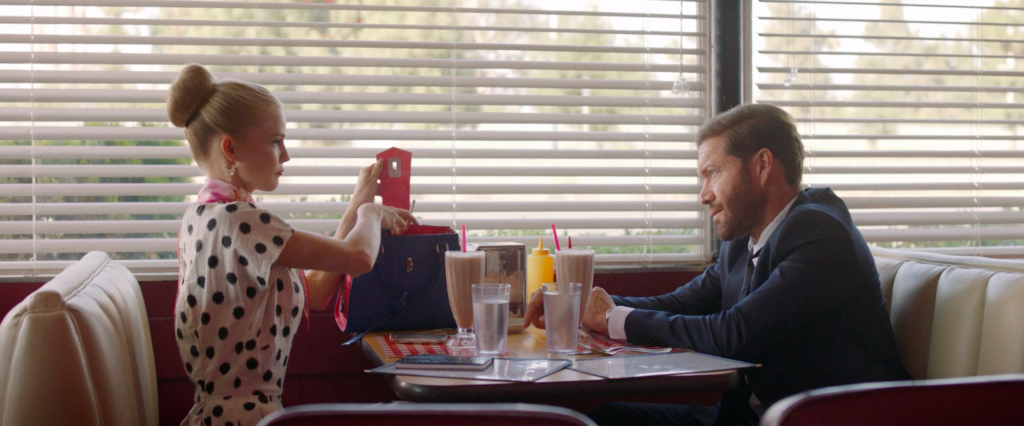 Oscar Cardenas and Kenzie Dalton in A Dark Foe – photo courtesy of Path of Thorns Entertainment
---
What role does Tony play in the film?
Tony Cruz is an FBI agent who suffered in his childhood from an irrational fear of darkness, caused by the murder of his mother and the abduction of his sister by a serial killer. Ever since he has been obsessed with finding his missing sister. He has drawings all over the walls of his place, of how his sister should be physically evolving.
That psychological disorder is brought back during an undercover operation when he meets again with this killer. He can't catch him and due to his condition, he is suspended from duty.
Tony embarks on a hunt to track this man down and determined to find his sister and bring justice to his family.
Was it a challenge to play Tony?
Oh yes! It was a huge challenge in so many aspects; the first one was the language barrier. Although my character has Latin American roots, I got a dialect coach to speak fluent English, I had to speak a few lines of Cherokee language in the movie and that also required another coach. The second challenge I'd say was regaining confidence in me. I left my acting career many years ago and never stopped thinking for one day in my life about being an actor again. I was really afraid but my daughter, who is also the director of the movie, pushed the right buttons on me to make me feel confident to immerse into this role with passion and not being overwhelmed by being acting next to these great actors and actresses.  I also had to practice a lot with guns and pistols and getting in shape to do my own stunts. I really wanted to look like an authentic and seasoned FBI agent, for this purpose I met a very supportive FBI agent, whom I did my best efforts trying to emulate him in several aspects for my role. I think I was very fortunate to meet him as he served to me as the blueprints and the foundation for creating Tony Cruz.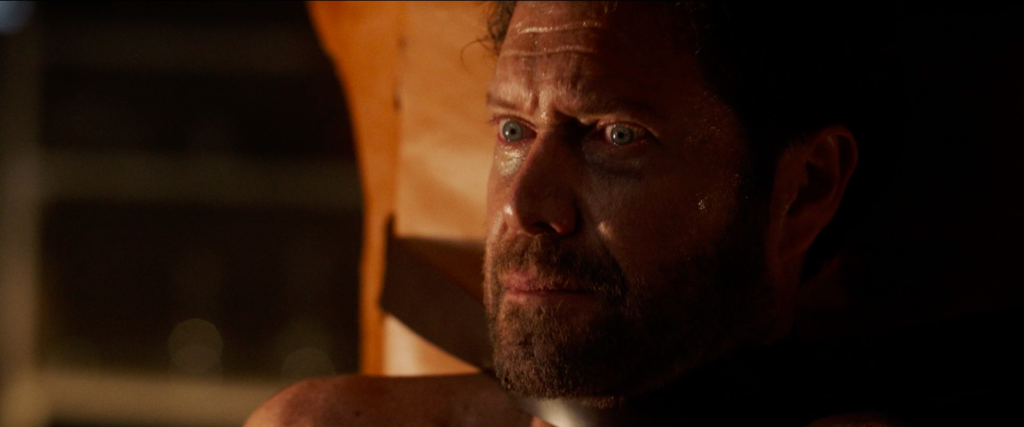 Oscar Cardenas, TA Dark Foe – photo courtesy of Path of Thorns Entertainment
---
How did you get the role?
I created the character of Tony Cruz for about two years on a screenplay. I said to myself if I really want to be an actor I better give myself a job. So writing a screenplay for a movie with a compelling character to portray and an interesting storyline was my main focus. The challenge was to sit down and not being distracted by cellphone, TV shows or whatsoever  (I didn't watch a TV show for two years).
I realized somehow that I've been distracted for too long, so it was time for me to focus and execute in concrete actions, I mean, to determine a plan and stick to it.
So I created a daily routine for my purpose; after getting home from another job that I had, I started writing from 6:00 pm until 12:00 am, and again from 4:00 am until 6:00 am.
I worked with my daughter to develop the screenplay, a very painstaking process because I was trying to achieve a decent reading material that made us proud of ourselves and that Academy award actor Graham Greene would accept playing the antagonist of our movie. We created the role he plays, him in our minds from the very beginning. Once the screenplay was ready and we had Graham attached to the project things moved smoothly.
Oscar Cardenas and Kenzie Dalton in A Dark Foe – photo courtesy of Path of Thorns Entertainment
---
The subject matter of the film is true-to-life. Did you do any research to play your role?
Yes. My research began with the creation of the screenplay. I sat down for several sessions with a Psychiatrist trying to understand the nature of the phobia we were dealing in the movie: Nyctophobia or fear to the dark. I've never been myself appealed to dark environments, in fact when I wake up at night I feel scared and it brings negative thoughts to my mind. Maybe I have this phobia same as my character. (Laughs).
On the other hand, I also had the good fortune of meeting one of the most experienced FBI field agents that work in Los Angeles. He helped me a lot, not only by teaching me how to properly use guns but his persona transmitted this aura of quietness even in the most difficult times, that I decided to copycat him in every gesture, his way of talking to people, how he looked around, etc. I mean, when I really got to know him, I noticed this guy, same as my character, has been through a lot, and I stole every inch of that for what I did on the screen.
I suffered the terrible loss of my father and that pain was still on the surface of my skin. So for the scenes where my character had to project deep emotions, I think it was more the real me, Oscar Cardenas, than anything else.
What is going to surprise people about Tony?
I guess people are going to be blown away for the way Tony has to pass every obstacle in his way to try to find his sister. He literally goes to hell and back.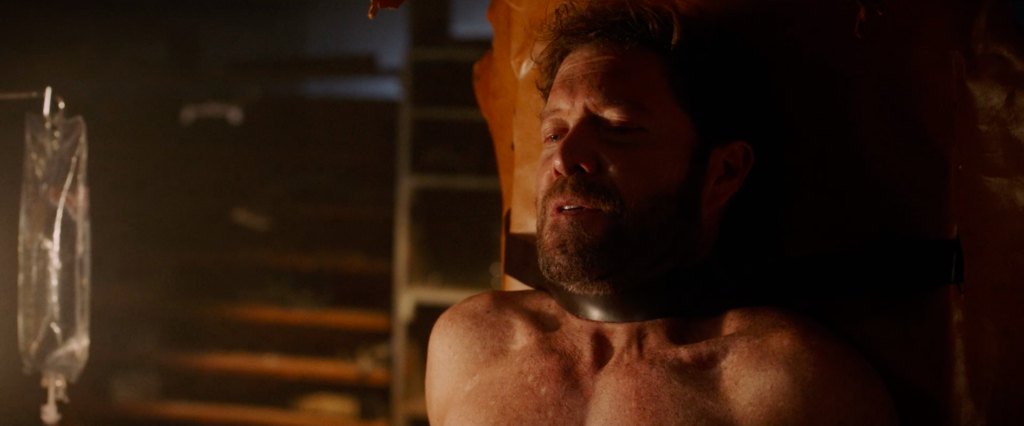 Oscar Cardenas, A Dark Foe – photo courtesy of Path of Thorns Entertainment
---
Without giving anything away, what's your favorite line of dialogue and why?
Rebecca:  Tony, are you afraid of dying?
Tony: No! But, I do my best to avoid it.
I think this sentence summarizes the entire movie! And it's really funny.
When looking back on the production, what resonated with you the most and why?
I heard once a well-known filmmaker saying once that "making a movie was like going to war" and I never really understood him at that time.
Well, now I know what he meant. In our case due to scheduling and budget issues, we had to work overtime during almost the entire month that we shot the movie. That means 16 – 18 hours a day every day, except for Sundays. Although we had, for the most part, an exceptional crew, people were so tired by the third week, and that includes me, that I was really concerned about not clashing between each other as grumpiness was everywhere. I also had an accident on my left foot that caused me a great deal of pain and made me limp for several days. Fortunately, my character suffers from an injury and he had to limp as well, so we didn't have to stop filming, and the pain that I show in those scenes is real. (Laughs).
In your opinion, what scene in the movie is going to blow people away and why?
The movie has so many great scenes, that it's difficult for me to choose one. But, I think that there is a scene that no one will see coming and it's by far the most disturbing scene I've seen in recent years. All I can say it shows "The Cradle", the sinister character Graham Greene plays in the movie.
What do you enjoy most about your character and role?
I enjoy the fact that, even with all his flaws, my character turned out being such a likable guy, that the public will be rooting for him from beginning till the end of the movie.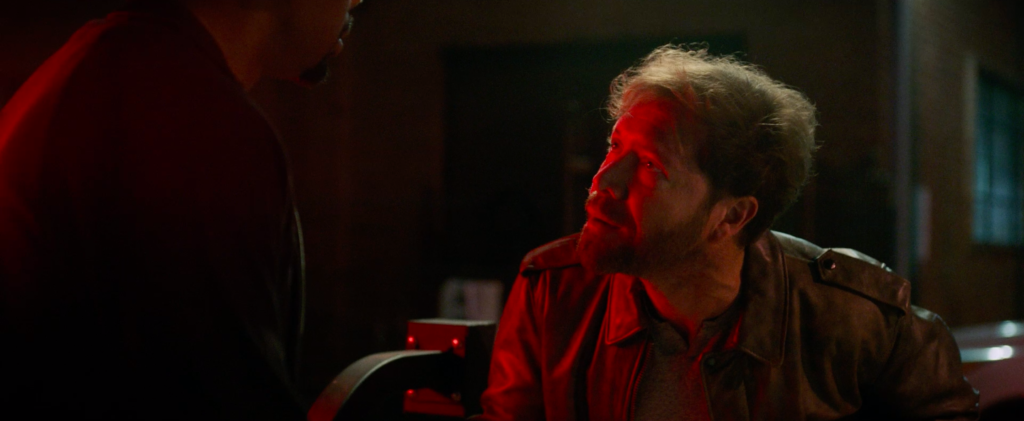 Oscar Cardenas, A Dark Foe – photo courtesy of Path of Thorns Entertainment
---
Do you have anything else you would like to share about the film?
This movie is above all a great noir film, framed as a thriller, with a gallery of compelling characters and storylines. It'll keep you guessing until the very end of the movie.
I wish everybody likes A Dark Foe, a redemption story about a man coming to terms with his past and stolen innocence.
Do you have anything else you would like to share about your career?
Every person in this world who knows me since I was a little child will tell you that all I wanted to be was being an actor.
I was born and raised in Venezuela. I was formed professionally as a theater actor and had so many plans for my life about making a living as an actor when I was pushing my twenties, but somehow my life changed its course and I dedicated to other endeavors. One thing I can tell you is that every single day of my life I thought about going to Los Angeles and starting a career as an actor. But I never did it until now. I finally decided to write this story about a guilt-ridden hero, and here I am, blessed to be sharing the screen with so many talented greats such as Selma Blair, Graham Greene, and so many others.
I just want to tell to all those persons out there in the world who dream about doing something or being someone in any field, to please move at least only one step in that direction every day. Use your free time, avoid so many distractions that surround us, time goes by, and dreams are like flowers, they need to be nurtured by actions every day. That's my advice and I repeat that to myself all the time; I'm working now toward the long term of what I can give as an artist. And I work very hard trying because I know what I want to be.
Connect with Oscar:
Instagram @oscarcitocardenas