Interview by Best Actor Award – New York
Double interview with Orit Blayzer & Sergey Davydov Outstanding Award Winners for the Short Film "Draft"
Hi Orit, Hi Sergey! Thank you for granting this interview and sincere congratulations on your 'Outstanding Performance' Award! You played the lead characters in the film 'Draft'. What should the audience expect to see?
Orit: This is a story about perception. Perceptions of men and women. About how different we were created, not only externally, but also inside.
Sergey: Hello, thank you for your question. Well…spectators will see the story of the relationships between two people, a man and a woman, the sensations and feelings of each of them.
Tell us more about your (Four!) characters. What are their personalities like?
Sergey: My characters are complete opposites. One is a sassy womanizer who loves no one but himself and his work, while the other, on the contrary, is an attentive kind man who dreams of strong love and a friendly family.
Orit: The first time I read the script – I naturally did not understand anything. I did not understand how Olga was going to turn this mess into a single story, but when we began to disassemble my characters – I certainly fell in love with both of them. The first, as I called her "marshmallow girl", is very naive, pure and beautiful. A classic Disney princess or barbie, in which in the mornings birds are singing on her hands and bunnies weave wreaths of daisies. She believes in love at first sight, and if she loves, then with all her heart and forever. The second, as I called her – "depraved WOMAN" – no longer believes in anything, for her a man is a bag of money and a way to live for a while, until a more profitable option appears.
What did each of you do to prepare for the role? Where did you get the inspiration from in order to give depth to both versions of your characters?
Orit: Of course, Olga was my main helper in the analysis of characters. There were almost no problems with the "marshmallow" girl, since all my life I have been playing only such roles and our understanding of the character with Olga came together. But with "the dark side" it was more difficult, to be honest, I was shy wildly – that helped me in the first character, but, since I always had a dream to play such a lecherous person, I went all-in and just started to make faces and have fun. When we shot the parts with the Depraved Woman, everyone laughed, since everyone knew what I was "marshmallow" in my real life.
Sergey: I drew inspiration from the inside. The fact is that I am "twins" in the zodiac sign, so the topic of diametrically opposed personal living in one person is very close to me and understandable. I have these changes approximately every 30 minutes.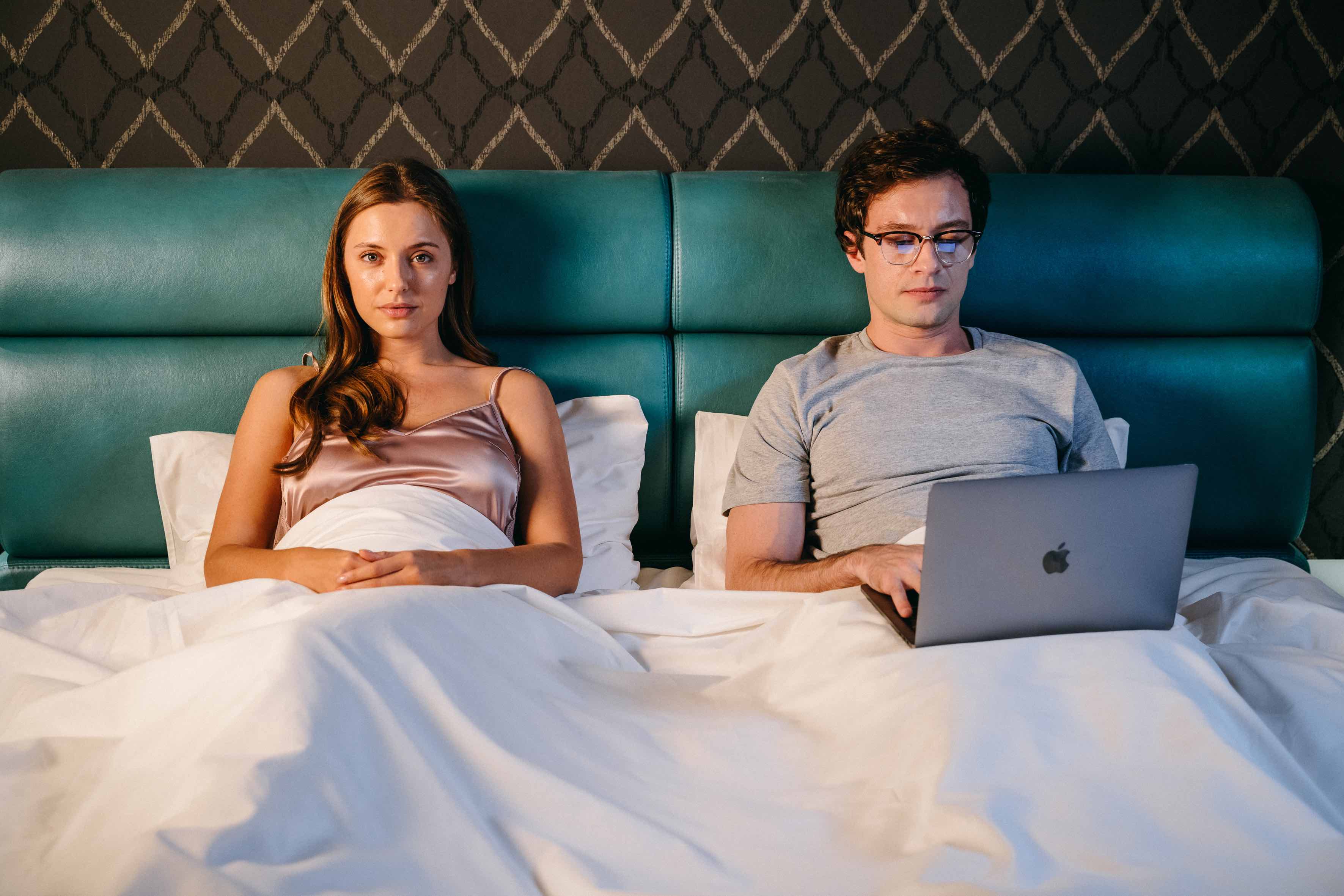 The actors Orit Blayzer & Sergey Davydov on the set of 'Draft' directed by Olga Alikberova
---
Without giving anything away, what is the favourite line of dialogue for both of you and why?
Sergey: I can't speak for Orit, I haven't seen her for a long time. But I liked a scene where she told me that she quit and disappeared, because she realized that she was very in love and was afraid that this was not mutual… this is probably a turning point.
Orit: Favourite line – this is of course the morning after night together. About how we girls see ourselves as beautiful angels, with a fresh blush, and how dirty we become after that for men.
Which 'version' of your characters did you enjoy the most playing and why?
Orit: As I said earlier, I always dreamed of playing a depraved, frivolous girl. I lived with this character, I adored this "lecher". She came up with her names, her chips and her phrases. Even in between shots, I tried not to turn off, so that I could live longer in it. It seems to me that at some point she even had her own, different, voice. But honestly, I was afraid to see what came of it. When we looked at the final version, they shot me from the side and laughed at the fact that my emotions were going wild. I laughed, cried and closed my eyes to the moments with the "libertine".
Sergey: Of course, the bad guy. It's always fun to play. Good today is hard to do not flat and interesting for spectators. I play rascals well.
Is there any fun facts from the shooting you would like to share?
Sergey: Oh yes. There was one moment on the set, especially remembered.. the kiss scene.. for some reason it didn't suit the director for a very long time and we shot it, I'm afraid to lie, but the feeling was that were 30 takes.
Orit: When I met Sergey for the first time, I didn't like him wildly. Olga immediately felt this and on the very first day of shooting, after the first shot she led me outside and said: "Ora, I see how he annoys you! We won't make a movie in this way! You must love him!!". But of course I assured her and said that it's even easier for us to play resistance and everything will be OK, and at that moment I couldn't even imagine how I would KISS this person.
But only Sergei and I should have been left alone near the buffet… It happened. He turned out to be a incredible person, and most importantly with a great sense of humor, and all the remaining shooting time – we neighing like horses. For which we were often receiving on the neck.
The Russian director Olga Alikberova on the set of 'Draft'
---
'Draft' is written, produced and directed by Olga Alikberova. Did you know her before or was this your first time working with her?
Orit: I did not know Olga personally, but it turned out that we have a lot of mutual friends. When I came to the casting, Olga almost approved another girl for this role, but she saw me on instagram of our mutual friend, called for the casting – and here I am)
Sergey: No, I didn't. We met on the casting and it seemed we immediately liked each other. And with this wonderful feeling we went on this journey called "Draft".
What advice would you give to young people willing to pursue a career in acting?
Sergey: Those who wish to pursue whatever they want, I would advise you to be passionately in love with your business and practice more and be in sight, and then sooner or later the opportunities themselves will find you.
Orit: I am not a guru in this profession, it was just my second project. But personally, I can say that the main thing is to have fun, to enjoy every moment of this wonderful profession and to believe that everything will work out.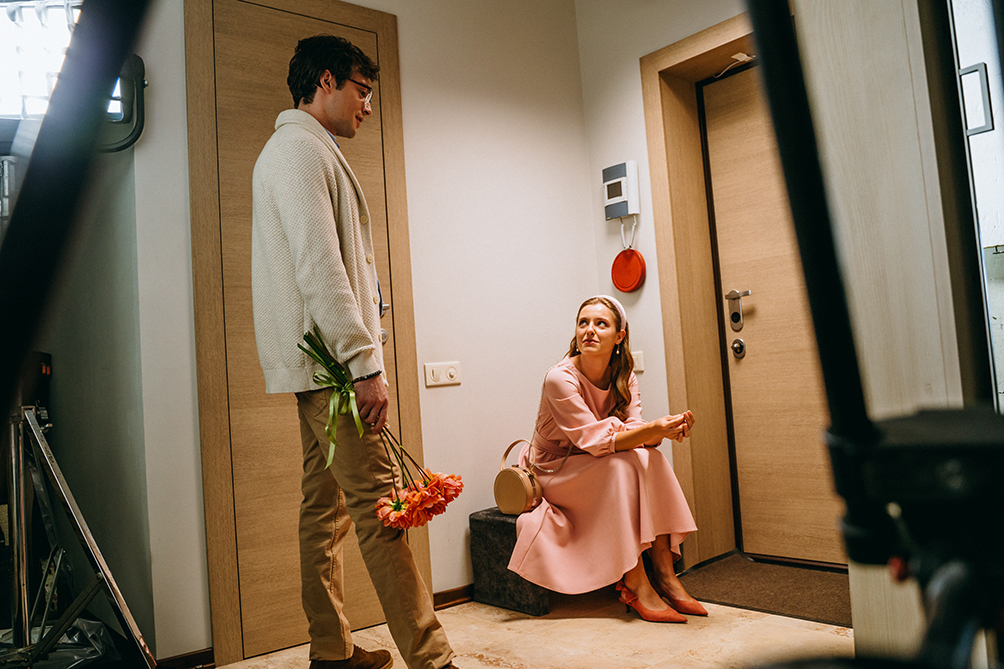 The actors Orit Blayzer & Sergey Davydov on the set of 'Draft' directed by Olga Alikberova
---
What is the message of 'The Draft'? What is the real meaning of 'Draft'?
Orit: There are many abstruse metaphors on this subject, but for me this name of a movie, "The Draft" describes a girl who became a draft for a man.
Sergey: A draft is like rehearsing between takes, which are often much better than what later falls into the final version of the picture, but no one will ever see them.. this is probably the charm and at the same time the tragedy. A draft is freedom because mistakes could be made there. Probably something like this..
What are you both currently working on? Is there any upcoming project you would like to share with us?
Sergey: Now I am engaged in my theater project, but this is still a secret.
Orit: Now I just finished the shootings in the TV series and I am already preparing for the new ones. In these two projects I will again be a "marshmallow girl", so I hope that soon Olga decides to shoot a new project and writes for me a new "lecher".
Orit Blayzer: Facebook – Instagram
Sergey Davydov: Facebook – Instagram
"Draft" Short Film: Facebook – Instagram
Olga Alikberova: Facebook – Instagram