Interview by Best Actor Award – New York
Interview with Luke Lenza & Revell Carpenter, Outstanding Performance Award Winners for the Short Film "Thick as Thieves", directed by Sam Fichtner
Hi Revell, Hi Luke! Thank you for granting this interview and sincere congratulations on your 'Outstanding Performance' Award! You played the lead characters in the film 'Thick as Thieves'. What should the audience expect to see?
'Thick as Thieves' is a fast-paced romantic heist movie with a few tricks up its sleeve.
Tell us more about your characters. What is their personality like?
Luke: Gary is like so many of us, nervous about introducing his new partner to his friends for the first time. When things quickly get out of control, he grasps at straws to reign in his career criminal girlfriend.
Revell: Rose is a firecracker! She has an optimism and fever for life that attracts people to her – no one is able to tell Rose what to do or how to do it. She is so confident and determined, which made her such a fun character to play.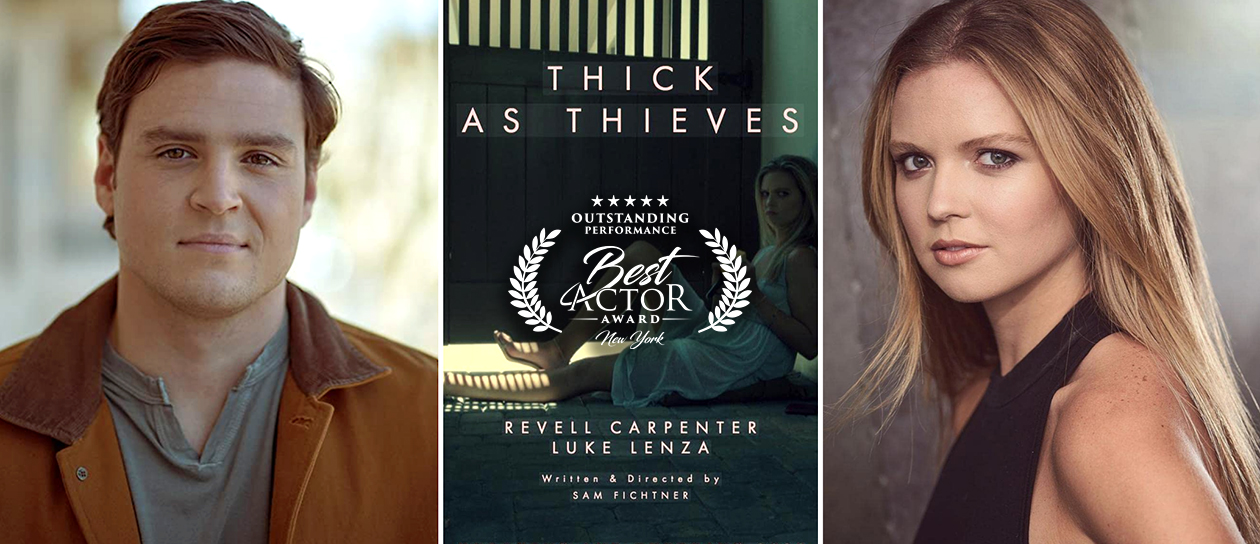 The poster of  "Thick as Thieves" and the actors Luke Lenza & Revell Carpenter – Photo credits IMDb
---
What did each of you do to prepare for the role? Where did you get the inspiration from in order to give depth to your character?
Luke: For Gary, I looked at a few of Steve Soderberg's characters, specifically Danny and Linus from the "Ocean's" series. There's a little bit of Vince Vaughn in there, too. But the bulk of the work came from Sam, Revell and I building this couple's relationship from scratch all the way from the early writing stages to the table read to things we discovered on the day. You learn a lot about someone when you look at their closest relationships, and that's where I really found out who Gary was, a nervous competitor, not nearly as smooth as he thinks.
Revell: I agree with Luke! The bulk of our character work was done as a team – which is why we were able to play off of each other so effectively. My personal work involved finding a middle ground between some Anna Faris (specifically Just Friends) mannerisms and cadence, and slightly more grounded performances, such as Alicia Vikander in 'Man From Uncle'. I loved her relationship with Armie Hammer's character – always a power struggle with a hint of romance.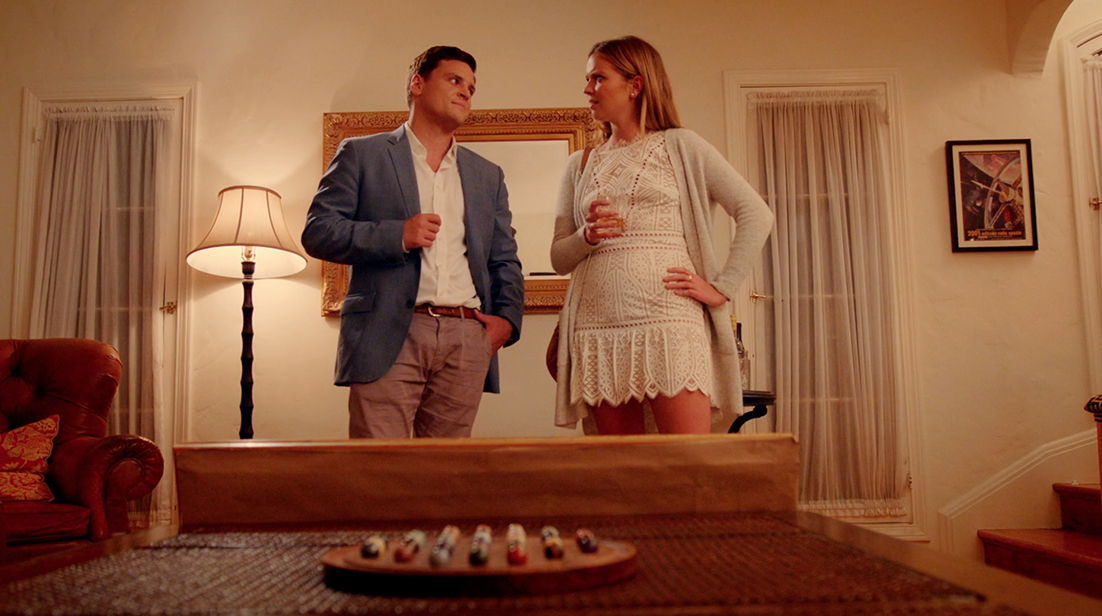 Without giving anything away, what is the favourite line of dialogue for both of you and why?
Luke: I saw you book it past the auditorium with my Cezanne in your hands!". I'll leave it at that.
Revell: "I'm looking at true blue, and I want to know more". So sweet.
'Thick as Thieves' is written and directed by Sam Fichtner. Did you know him before or was this your first time working with him? And did the two of you know each other before the film?
Luke: I was lucky enough to meet both Sam and Revell about a year or so before we started shooting, and we became fast friends. Sam pitched a rough idea for a romantic heist film. I said yes immediately and came on board to star and produce alongside Rev. She and I had been working at Joe Anthony Studio in Van Nuys for acting class then, and were having a ton of fun playing together.
Revell: I met Sam about 2 years ago – he's an insanely talented director and writer. Luke and I were so honored to be able to bring Rose and Gary to life.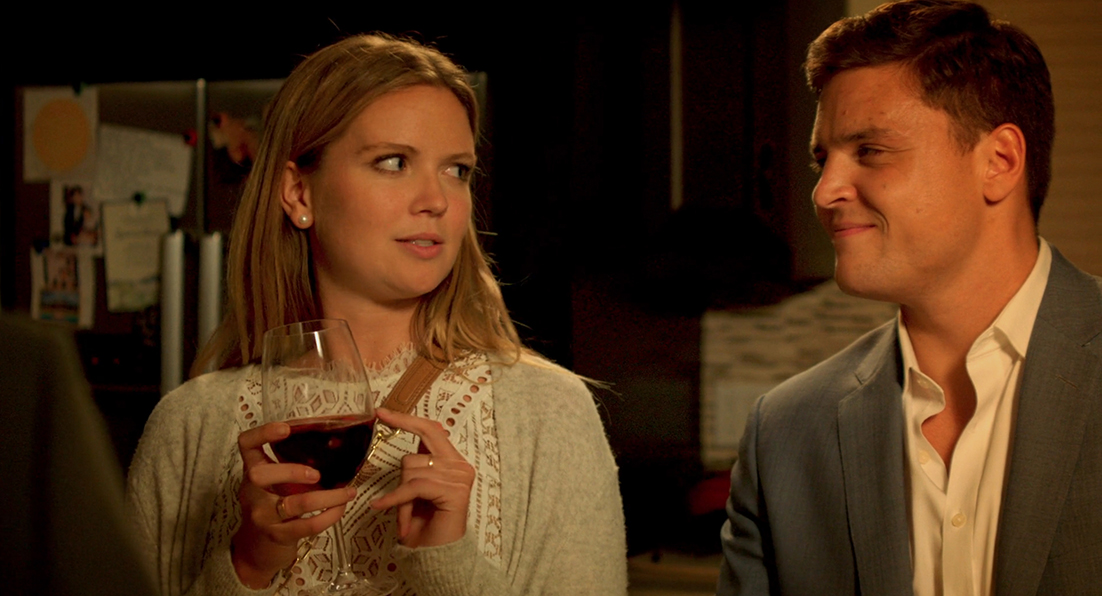 We know you guys also co-produced 'Thick as Thieves'. What did you enjoy the most about working the film?
Luke: I had worked in production for a bit before this, and was so excited to get a hand in developing this thing from inception. I can say wholeheartedly, Sam and Rev took on the bulk of logistical planning the shoot. That support left me a lot of room to get into the fun and challenge of playing without having to be overly worried about wearing too many hats, which can happen all too easily on these smaller shoots.
Revell: This was my fourth short film producing, and I've learned so much every time. We had such an amazing team of actors and crew. Best one yet by far!
Is there any fun facts from the shooting you would like to share?
A fun fact is that we saved a lot of money on locations by shooting at our homes! I think that's such an essential way to make things nowadays. Use what you've got. That opened up a lot of opportunity, principally in being able to bring on Ryan Thomas, a total gamer of a DP, and Louis Weeks, a composer who took this whole project up a level with his upbeat, jazzy, thumping score.
Let's talk about the Cast. How was it to play along with your colleagues?
Luke: I adore Revell as a friend, but as an actor, she kind of intimidates me in the best way. She brings a focus to each moment that makes you step your game up, and has a real knowledge about acting for camera that I was lucky to learn from.
Revell: It was a DREAM to get to work with Luke on screen. We had established such a great rapport working together with modern plays in class – my favorite of which was a scene we performed together from Reasons To Be Pretty by Neil LeBute. He is so present and professional – every scene in the film was a blast, and every take was different.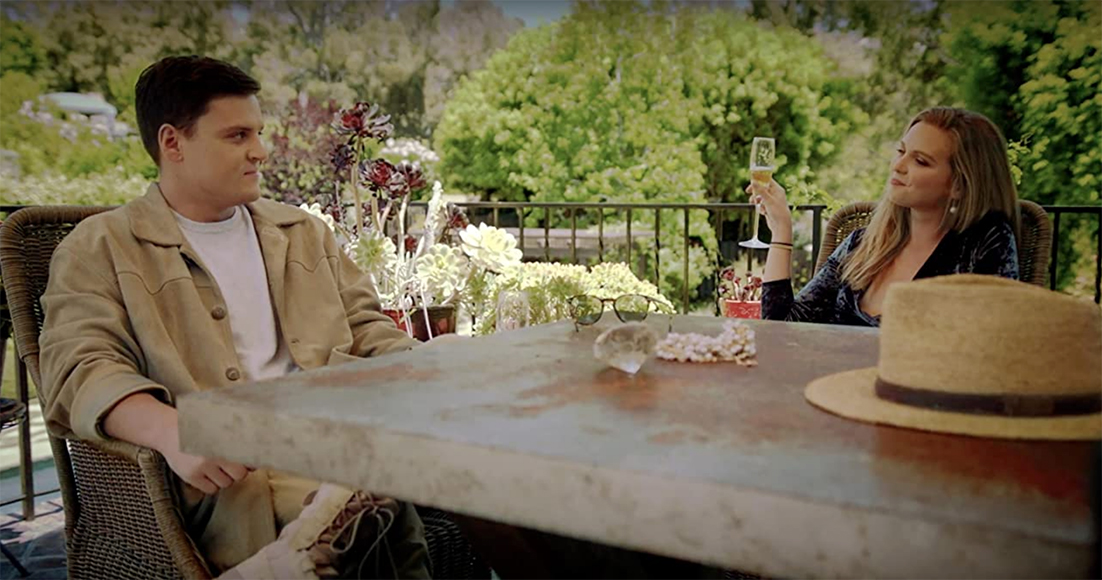 What is the message that 'Thick as Thieves' and/or your character convey?
Luke: I think the old school dynamic of the man leading always in a relationship is challenged a little bit. Gary's so out of his depth at first. He has this very high expectation of how the dinner party is going to go, so I'd say the message is to challenge your expectations because there may be something even better on the other side.
Revell: I love Luke's answer. I also think there's a little bit of a girl power message to Thick As Thieves. Rose is totally in control of the 'dance' that is her relationship with Gary – and even in the brief instance she's not, Gary comes to her 🙂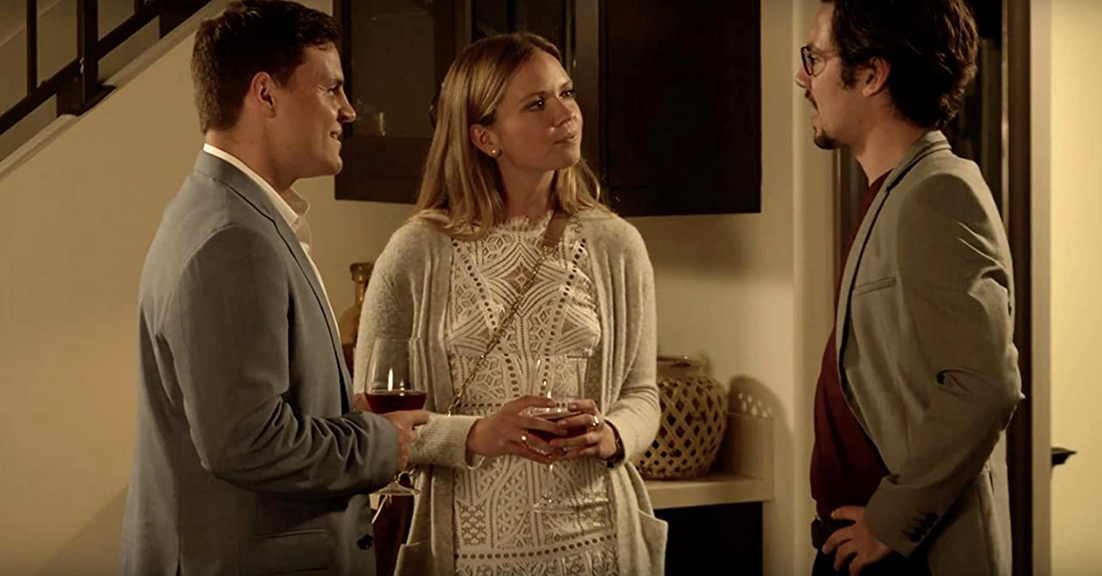 What are you both currently working on? Is there any upcoming project you would like to share with us?
Luke: Right now I can't wait for "Press Play", a romantic drama directed by Greg Bjorkman and starring Clara Rugaard and Lewis Pullman, to come out. It's such a sweet, musically driven, heartfelt film shot entirely in Hawai'i. I play Brett, the boyfriend of Lyrica Okano's Chloe. He's the former high school jock who turns out not so great. I just love every single person who worked on that film, and I was lucky to work with a dynamite production team, from producers Jonathan Shwartz and Logan Lerman to CJ Entertainment's Francis Chung, Ini Chung, Fred Lee, and others. I can't wait for the world to see my friends' work on this.
Revell: I am currently working on my third feature film this year – a Zombieland type comedy shooting in NY. I also wrapped a film in January that I am looking forward to seeing the finished product of – Hell Hole starring Tom Sizemore and Tiny Lister. I also just finished directing / acting in a short last week, Goodnight. Lots of fun to come!
Connecting to Revell Carpenter:
Connecting to Luke Lenza: